---
Insomnia, anxiety, OCD, depression, burnout and other stress related disorders
​
For expats and international students especially, facing the many challenges and demands of a busy life away from home without an established support network can be overwhelming. As stress accumulates a whole range of major mental health conditions such as depression, anxiety and burnout can start developing, requiring professional care and intervention from a integrative perspective.. Effective treatment of these conditions revolves around a comprehensive approach including psychiatric/pharmacological intervention, psychotherapeutic support and stress coping techniques including relaxation exercises, life style changes and contemplative techniques.
---
Bipolar and psychotic disorders and addictions
People suffering from bipolar and psychotic disorders and addictions are particularly vulnerable. Effective treatment of complex mental health disorders requires striking the right balance between care and autonomy and needs to be based on trust and understanding in order to work towards recovery, prevent relapse and achieve improved quality of life. A combination of long term psychotherapy and effective medication is often necessary. The cautious application of the most effective psychopharmaca at the lowest dose and with minimal side-effects requires special expertise, meticulous application and continuos feedback and discussion.
Dr Philippe Wuyts uses medication in a considerate way drawing from theoretical knowledge of international guidelines and practical experience over many years with patients in renowned academic institutions and in his private practice. Medication is prescribed only when necessary and after a thorough discussion of the expected benefits, optimal posology and possible side-effects. Dr Philippe Wuyts taught psychopharmacology at the
Master in Mental Health Studies at King's College London
.
---
Emerging mental disorders in young adults (from 16y onwards)

The transition between adolescence and adulthood is a phase of great changes which can easily disrupt a young person's optimal development and mental health. Some young people start to suffer from a lack of sleep, motivation and energy. Some may start to feel agitated, irritable and become impulsive, while others may withdraw from social life, experience strange sensations, intrusive thoughts and develop disturbing obsessions...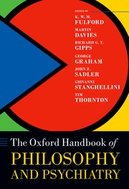 ---
---